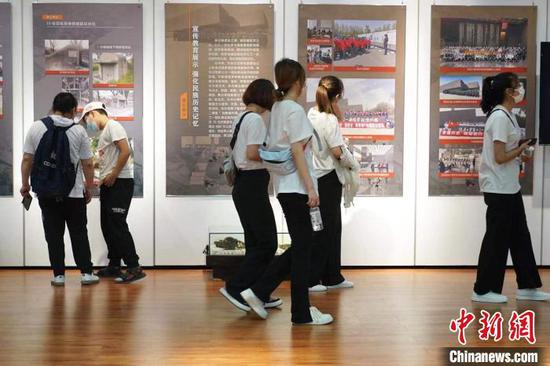 People visit the exhibition about the conservation achievements of Unit 731 in Harbin, Northeast China's Heilongjiang Province. (Photo: China News Service/Lu Pin)
(ECNS) -- An exhibition revealing the notorious Unit 731 was held in Harbin, Northeast China's Heilongjiang Province, on Thursday.
The exhibition is divided into five parts, displaying 195 relics, 554 pictures and 150 sets of archive materials.
For the first time, it shows a large number of details in the archaeological excavation process of the Unit 731 site, including text, drawings, measurements and other contents.
Most of the relics were collected during the archaeological exploration of Unit 731's Quadrangle site.
The Quadrangle site, named after the square shape of the building, was the center for germ research and experiments of Unit 731, including the bacterial laboratory and special prisons.
As a top-secret biological and chemical warfare research base, it was used by Japanese Army Unit 731 for bacterial, human anatomy, and biological weapons experiments.
During World War II, Japan violated international public law by secretly establishing Unit 731 in China, carrying out a large number of human experiments and large-scale germ warfare.
In August 1945, Unit 731 blew up part of the facility during its retreat, forming the basic layout of the existing site, which provides important criminal evidence of Japan's bacteriological warfare against China.
The exhibits are an innovative exploration to reveal the crimes committed by Unit 731 and a scientific result of interdisciplinary research on Japanese aggression against China, said Jin Chengmin, curator of the Museum of Evidence of War Crimes by Japanese Army Unit 731.
Unit 731 was established in Harbin as the nerve center of Japanese biological warfare in China and Southeast Asia during WWII. At least 3,000 people were used for human experimentation by Unit 731 and more than 300,000 people in China were killed by Japan's biological weapons.